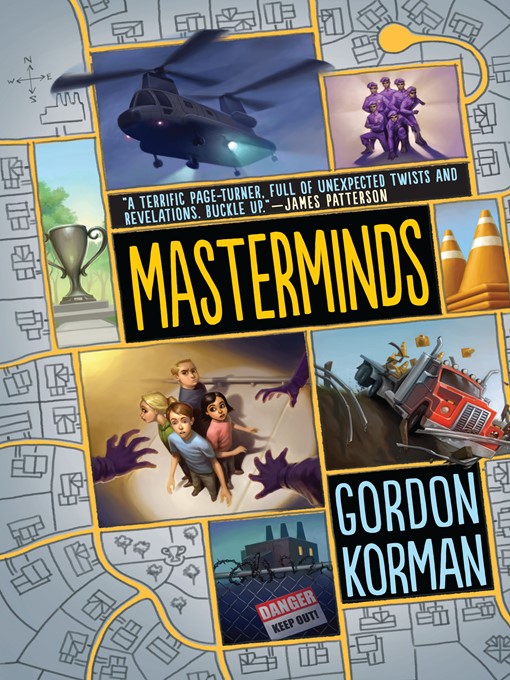 Masterminds
Masterminds Series, Book 1
Book - 2015

Eli Frieden lives in the most perfect town in the world: Serenity, New Mexico. In this idyllic place, every lawn is perfectly manicured and everyone has a pool and a treehouse. Honesty and integrity are valued above all else in Serenity. The thirty kids who live there never lie—they know it's a short leap from lying to the awful problems of other less fortunate places. Eli has never left Serenity. Why would he want to? Then one day he cycles to the city limits, and something so crazy and unexpected happens, it changes everything. Eli convinces his friends to help him investigate further, and soon it becomes clear that nothing is as it seems in Serenity. The clues mount to reveal a shocking secret that connects their ideal, crime-free community to some of the greatest criminal masterminds ever known. The kids realize they can trust no one—least of all their own parents. So they hatch a plan for what could be the greatest breakout in history. But will they survive? And if they do, where will they go from there? The first book in a thrilling new series from bestselling (non-criminal) mastermind Gordon Korman.
Searching for more content…
Branch Call Number:
OVERDRIVE ADVANTAGE COLLECTION
Characteristics:
1 online resource data file,rda
---
Opinion
From the critics
---
Community Activity
Summary
Add a Summary
13-year old Eli Frieden is involved in an accident at the edge of Serenity, New Mexico (which is claimed to be "perfect") and he gets sick. Soon his best friend Randy is sent away to boarding school away from Serenity. When Eli finds a note that Randy leaves, and he (and some friends he recruits) finds that nothing is like what is seems like in Serenity.
Recommended for 9-13 year old
P.S. I left out some pretty crucial parts of the book because I don't want to spoil it.
SPL_Childrens
Jun 23, 2016
Serenity, New Mexico, is a peaceful, self-sufficient community. Its residents, young and old, practise the values that they have always been taught: honesty, kindness, peace, getting along with others, and non-violence. They believe that Serenity is the best community in the world – there is no crime, unemployment, poverty or homelessness - and they see little need to travel elsewhere.
However, all is not as it seems in "perfect" Serenity.
Eli Frieden, a 13-year-old resident, receives a note from a friend whose family has just been sent away from the community. "Protect yourself, Eli. There's something screwy going on in that town."
Shortly after that, a severe storm briefly affects the community's Internet access. During that short interval, Eli retrieves some very disturbing online information about Serenity - information that isn't usually available to the public. It appears that town has some very sinister secrets. In fact, Serenity is connected to some of the most heinous criminal masterminds ever known!
Eli is shocked and realizes that most of the residents – even his neighbours and possibly his own parents – can't be trusted.
In their search for answers, Eli and his friends make some unthinkably grim discoveries.
At the end of this fast-paced story (which is narrated in alternating voices, including that of Eli), some unanswered questions remain. Masterminds is the first book in a new adventure / science fiction trilogy by Gordon Korman, author of a wide range of popular fiction for children. Readers will be keen to read the second installment!
** Recommended for ages 9 to 12 years.
cmlibrary_jcurrie
Jan 25, 2016
Eli and his friends live in the small, perfect town of Serenity, New Mexico. The streets have names like Amity and Happiness. All the families have a beautiful green lawn, a big house, and a swimming pool. Life is perfect in Serenity, but boring. Then something happens that gets Eli's best friend Randy kicked out of Serenity. He leaves clues and a note to warn Eli that something is not right in their perfect little town. Eli and his friends start to investigate and discover that everything they have been told about themselves, their town and their parents is not true.
Notices
Add Notices
Violence: There is death, and violence. It isn't described in great detail. May be frightening to younger children.
Quotes
Add a Quote
There are no quotes for this title yet.
Explore Further
Subject Headings

Loading...